The 75th Annual Widener Day
by Nancy Zhu
December 21, 2018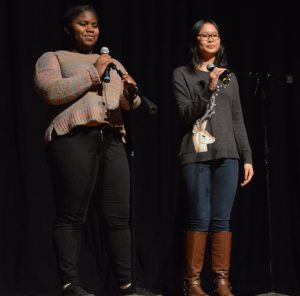 As the holiday season approaches, merry cheers and music can be heard down the halls. The 75th annual Widener Day visit brought more cheers and festivities into the building. Partnered up with Widener Memorial School, Central students prepared performances and tours for the special group that would be visiting.
Widener students were welcomed at the foot of the hill and guided into the building by Central students who volunteered to be buddies with the Widener students for the rest of the day. The Widener students jammed to the holiday music performed on stage. Dancers, singers, and musicians entered onstage and their goal was to rally up the audience to put jubilant smiles upon the student's faces. After the performance, Widener students had lunch and conversed with fellow Central students and faculty. They were then guided around the school and given a tour of the halls.
The Widener Memorial School visits are always an explosion of cheers and laughter shared amongst Central and Widener students. The Widener tradition continues to thrive and will continue to leave a legacy of giving and providing services to the community.
Hear from the students:
Andre Pak (278): "Performing at the Widener Show was a humbling experience, especially seeing all the joyful spirits in the audience. This tradition is always fun because everyone is super supportive. I'm glad to have taken this opportunity to make people smile."
Selena Tran (278): "It was great seeing the happy faces of the Widener kids. I'm glad we got to spread joy through our performances!"
Tammy Nguyen (278): "I've participated on our annual Widener Day for the past three years already and it never fails to be a success. My friends and I have so much fun spending time with Widener students, especially when we tour around Central. We always create this unbreakable bond where we automatically feel like best friends."
Sam Reilly (278): "Widener was an amazing experience where I was able to communicate with others who are unlike me. They warm my heart with their kindness, and I wouldn't trade that day for any other."
Jared Taylor (278): "I did the performance last year and I think this year was even more special. I got to perform with my best friend in front of my grade and all the wonderful people from Widener. It was a truly gratifying experience. It was a lot of fun ,and I'm glad I got to do it my senior year."
Photos by Ernesto Estremera (278)
This article is exclusive to the Central High School website.  For archived website articles, click here.